12 vs. 36 Months? The Choice is Obvious

Get Rescission Relief After 12 Months – Today
Doesn't it make sense to eliminate buyback risk 2 years sooner with National MI SafeGuard®?
After all, when it comes to 12 vs. 36 months, a difference of 24 months doesn't sound long
unless it refers to buyback exposure.
So get started today and receive National MI SafeGuard 12-month rescission relief,
and underwriting protection from Day 1 — See how for Non-Delegated and Delegated Loans.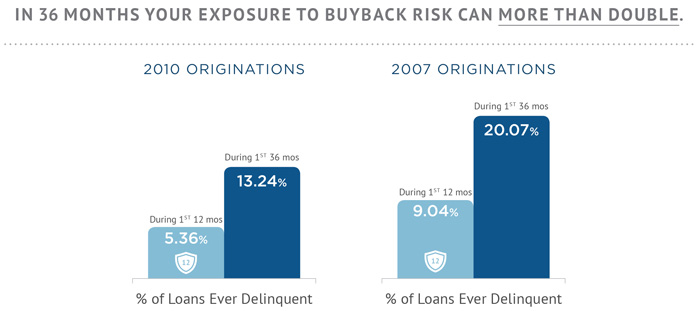 Most insurers require 36 months of timely payments. That's a long time to uncover reasons
to deny or rescind your loan. It also means the potential of 3 years' repurchase risk.
To help you understand potential loss from rescission, try National MI's Rescission Calculator.
Historical average default rate of >80 LTV loans is 4%

Default $

Loan balances which would go to claim

25% is historical average MI coverage %

Claim $

Estimated claims $ which would be presented to MI company

It is estimated that through the housing crisis, legacy MI's denied 1 out of every 5 claims – over 110,000 rescissions amounting to ~$7B.

Loss from rescissions

Conservative estimate of potential loss due to rescissions. Does not include buyback, carrying costs or loss over MI coverage
How many loans do you have to originate to make up for your buyback loss?

McDash Analytics – All mortgage originators full doc 80.01% – 97% LTV with FICO of 620+. As of 6/25/14, National MI received nationwide approval for the state regulatory approvals: Limitation on Rescission, Claim Denial and Certificate Cancellation Endorsement. For a full description of terms and requirements, please refer to National MI's master policy.