ATR Confident

A second set of eyes helps you feel confident in your assessment of the borrower's ability to repay a loan.*
ATR Confident is built into our innovative approach to underwriting. It's your assurance that all National MI insured loans — not just some — have been evaluated with the highest-quality underwriting standards, including the eight factors creditors must consider under the new Dodd-Frank Ability-to-Repay (ATR) rule.
With National MI TrueInsight, you get a clearer view into your risk early in the process — free of charge. You also get the confidence that all your loans have been evaluated against the same eight ATR checkpoints:*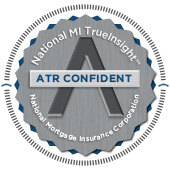 1. Current income or assets
2. Current employment status
3. Monthly payments for the mortgage
4. Monthly payments for any other loans associated with the property
5. Monthly payments for other mortgage-related obligations (taxes, insurance, etc.)
6. Other debt obligations
7. Monthly debt-to-income ratio
8. Credit history
We understand your challenges with increased regulatory requirements. Put National MI TrueInsight to work for you — and gain the confidence of a second set of eyes to help you meet the new ATR standards.
Be ATR Confident, contact your Sales Advisor today.
National MI TrueInsight is not a contract underwriting function.
* National MI is not a creditor subject to the Dodd-Frank Ability-To-Repay (ATR) determination requirements, and National MI's underwriting review is not intended to satisfy the lender's independent responsibility for complying with regulatory or investor requirements. National MI relies on the Insured's loan documentation and National MI does not perform re-verifications (except in connection with quality control). Refer to National MI's Underwriting Guideline Manual and Master Policy for a complete description of policies and requirements.