FHA? Signs Point to MI. Proceed with National MI
| | |
| --- | --- |
| Less paperwork | National MI |
| Faster Closing | National MI |
| Advantage in multiple offer buying situations | National MI |
| Straightforward appraisals and processes | National MI |
Favorable Pricing and Overall Costs
| | |
| --- | --- |
| More monthly savings in HIGHER FICO tiers | National MI |
| No upfront fees | National MI |
| Cancelable | National MI |
Purchase Power and Options
| | |
| --- | --- |
| Higher loan limit | National MI |
| Lowest down payment | National MI |
| No DTI overlay | National MI |
| Less cash to close | National MI |
| 100% gift funds allowed | Either Way |
| Prior Bankruptcy | Maybe FHA* |
| Less than stellar credit score | Either Way |
Please refer to National MI's Underwriting Guideline Manual and Master Policy for a complete description of policies and requirements.
*FHA may not support the loan amount.
FACTS about FHA mortgage insurance premiums:
FHA mortgage insurance premiums have nearly doubled since 2008. A borrower now has to pay $17,398 in premiums during the first five years after the purchase of a median-price home ($212,100), compared to just $9,210 in 2008.1
The recent decision by the FHA to lower annual mortgage insurance premiums will delay the ability of FHA to attain the 2 percent minimum capital ratio of risk insured that they are required to maintain. As of February 26, 2015, they stood only at a 0.41 percent capital ratio, one fifth of the two percent statutory minimum.2
The FHA premium reduction counteracts a bipartisan agreement to bring private capital into backing mortgages, and rely less on taxpayers as a backstop.3 In the wake of the financial crisis, the FHA insurance fund required $1.7 billion from U.S. taxpayers due to a capital shortfall.
Experience the conventional wisdom that comes with National MI. Below are examples of the monthly payment differences per $100,000 financed with National MI Conventional vs. FHA.
Lower monthly payments
For those borrowers with good FICO® scores, National MI can still deliver lower monthly payments over an FHA loan.
We also offer a wider range of payment options than FHA, including monthly or single premium options, paid by the lender or borrower.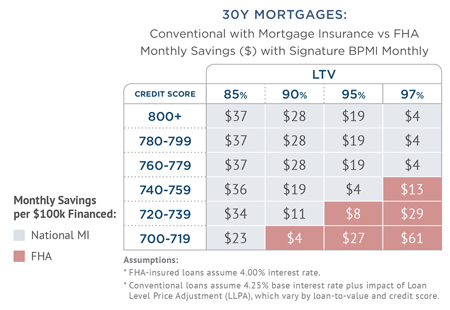 No upfront payment required
With FHA, upfront payment is folded into the loan amount, chipping away at a borrower's equity.
Cancellable at least 6 years sooner than FHA

It's not all about monthly payments, it's about costs

The true cost of mortgage insurance for a borrower with an FHA loan can really add up and may not be their best fit in the long term.
Less cash to close
We insure loans with just 3% down, while FHA requires a minimum 3.5% down payment. The time it takes for a borrower to save the additional funds could delay their getting into a home.
We provide a faster path to closing more loans
No need for FHA case numbers
No need for special Direct Endorsement (DE) underwriters
No need for approved appraisers
No burdensome extra paperwork or package preparation
1     "The 2014 Mortgage Insurance Report," WalletHub.
2     Article: "FHA and the need to strike the right balance for taxpayers," TheHill.com.
3     Doug Holtz-Eakin, President, American Action Forum, CQ Congressional Transcripts, Hearing of the House Financial Services Housing and Insurance Subcommittee, February 26, 2015