Moving MI Forward and Faster in 12 Months*

National MI was the first to announce to lenders a more innovative, cutting edge solution.
National MI SafeGuard® offers rescission relief after just 12 months – 2 years sooner than the industry standard of 36 months.
Rescission Relief After 12 Months:
Significantly reduce lender risk with our straightforward Master Policy so lenders can feel more confident
If approved, after 12 months, unless National MI is presented with credible evidence of first-party fraud, we will not actively investigate the loan.
An Innovative Approach to Coverage Protection:
Certifies that each loan covered by National MI is insured with clear underwriting protection, regardless of origination channel, investor sale or insured date.

We fully and equally support both Non-Delegated and Delegated channels
No extra charge for this coverage
No re-verifications are needed
Offers significant protection to lenders and confidence in the reliability of our coverage from day one.
Ensures that National MI will pay a claim when a borrower makes 12 consecutive, timely mortgage payments from their own funds.2
Guarantees that every valid claim will be paid on a timely basis – in weeks, not months.
Certainty of Coverage
National MI has developed a master policy that reduces lender risk by requiring only 12 timely, consecutive mortgage payments instead of the industry-standard 36 payments before a loan is safe from rescission or denial of coverage2.  And, after 12 months, National MI will not actively investigate a loan unless fraud is presented to us.3



National MI SafeGuard: Quick Comparison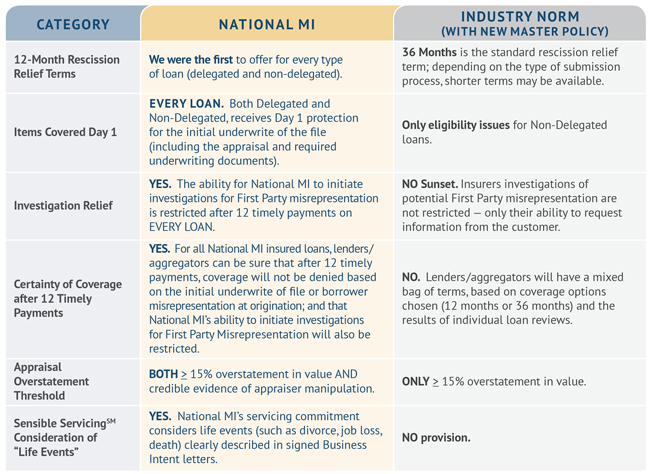 Go to Press and News for more details.
1"Approves"refers to either channel:  Non-Delegated "Approval" or Delegated Assurance Review "Insurable" rating.
2Presumes Servicer has continued to remit required premium payments to keep insurance in force and that claims perfection requirements have been met.
3Assumes loan otherwise meets National MI's master policy coverage, eligibility and claims perfection requirements.  Insurance will remain in force presuming Servicer continues to remit required payments.